Eldorado GT design from 1961
While reading the latest issue of AutoWeek, a sidebar on a proposed Cadillac sports car based on the Corvette prompted me to dig up some sketches I did at age 17. I apologize for the quality of the scans, as they are on 37-year-old tracing paper!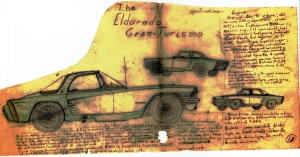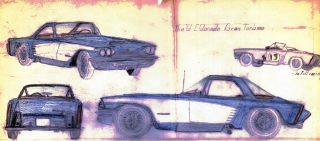 (Click an image for a larger view)

I based the design on the '61 Corvette; here are the specs which I tediously retyped as they did not scan too well:
Engine:
Six-cylinder, 90-degree V-type; aluminum alloy; bore - 4.025", stroke - 3.9",
piston displacement 400 cu.in.
Special high-lift camshaft
fuel system - electric fuel pump, metered-flow Hilborn fuel-injection
6-71 GMC Roots-type supercharger
maximum compression ratio (blower on) 18:1
free-flow quad exhausts

Transmission:
Rear-mounted Chevrolet Corvette 4-speed all-synchromesh gearbox
Special reverse lock-out
Ratios:
1st - 2.2:1
2nd - 1.66:1
3rd - 1.31:1
4th - 1:1
reverse - 2.2:1

Suspension:
front - independent with equal wishbones and torsion bars
rear - De Dion tube-type with swing axles, transverse
coil spring for added stability

Final Drive - several available ratios:
3.31 - 4.62; non-slip differential available with ratio of 4.25:1

Brakes:
servo-assisted disc-type on front wheels
inboard-mounted finned aluminum drum-type on rear

Body construction:
Super light aluminum/magnesium alloy or standard-weight steel
over space-frame of heavy-duty thick-wall chrome/moly tubing;
all stresses relieved

Standard Equipment:
genuine leather upholstery in black, beige, brown, red or blue.
walnut interior trim
walnut and aluminum competition-type steering wheel
Becker AM-FM radio
heater/defroster
two-speed electric windshield wiper and washer
matched set of interior and trunk luggage
backup lights
full compliment of instruments on panel
Air Conditioning optional at slight extra cost

(the following standard items may be omitted at reduced cost)
automatic headlight beam changer
electric window lifts
automatic radio antenna
power adjustable seats
inside adjustable rear-view side mirrors
knock-off hub wire wheels (chromed or painted)
8:00x16 racing tires or
8:50x16 low-profile white-side-stripe tires


---
Back to Mark's Cars Page.
Back to Home Page.